Names:

Nicole & Philip
Status: 

Married
Been together si

nce:

1981 or 2011
It was 1981. I was living in Holland and was going to the USA for Christmas to spend it with my best friend Barbara.
She wrote me a letter before I arrived saying she knew this really lovely guy and that we had to get together. She was telling me how gorgeous he was and apparently, she was telling him the same about me.
So my first contact ever with him was via telegram. His message said 'Eagerly anticipating your arrival. Sleep on plane, party on arrival.'
When I got to the States Barbara and Philip picked me up in Boston. We did indeed go to a party the first night I arrived. We were very attracted to each other from the get-go. I was 24 and he was 25. Things just developed very naturally and continued for the duration of my holiday.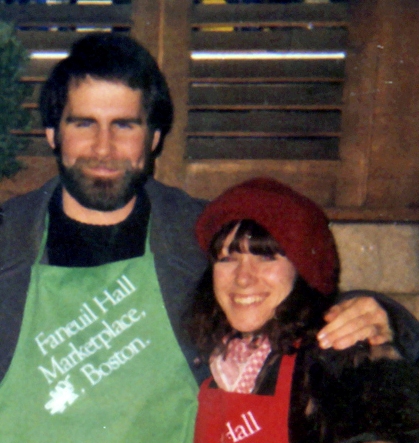 Then I went back to Holland. We exchanged some letters and cards but back then there was no email, no computers and no Skype, so it wasn't easy to stay in touch. We also enjoyed the occasional phone call when we could afford it.
The next time I went to the States we met up and got together again. Over the next few years, it was the same every time I visited. We were buddies – "friends with benefits" and always had an easy way with each other. We used to say that if we reached the age of 40 and weren't married by then, we would marry each other.
We lost touch for a while when I moved to Hong Kong and he ended up meeting somebody when he was in his early forties and so it was some time in the '90s when we last saw each other. After he got married we didn't see each other for quite some time, at least 12 years. During these years him and his wife had divorced. Then Facebook came along and we reconnected as friends. Philip also achieved his lifelong dream and become an airline pilot and was flying all over the world.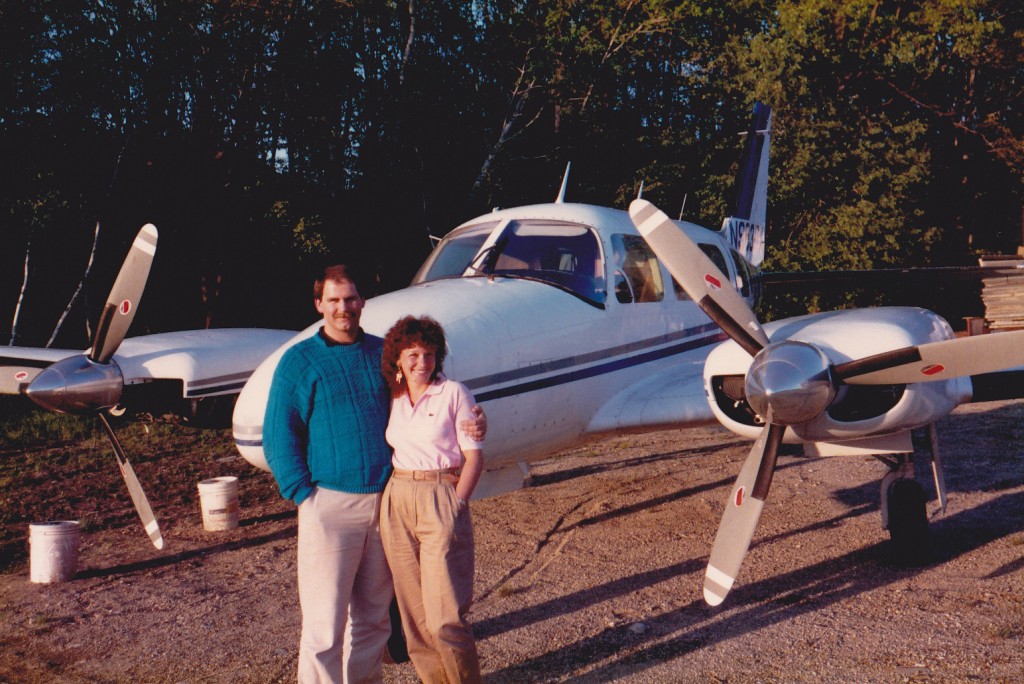 In 2011 I was living in Dubai and was going on holiday to the States to see Barbara. Philip was living in New York and we agreed to meet up and go away together again, just like the good old days. When we met in Boston, it was like we'd never been apart – it was very easy to be together with him. While we were away in Maine, things developed and changed into more than a casual friendship. In fact, the first day that we met up and were driving to get away for the weekend together, I knew intuitively that I wanted to marry him.
We had a few days in Maine then he dropped me off at the bus stop, as I was going to visit another friend in Connecticut whilst he stayed in Maine for a few more days. He tells me that when he put me on the bus he was thinking, 'I can't believe I am letting her go again'. On his way back to New York from Maine, Philip decided to detour and stop by at my friend's house for just a few hours where she made dinner for all of us. He said that it was during that evening that he realized he wanted to be with me forever.
He then left for home in New York and I returned home to Dubai.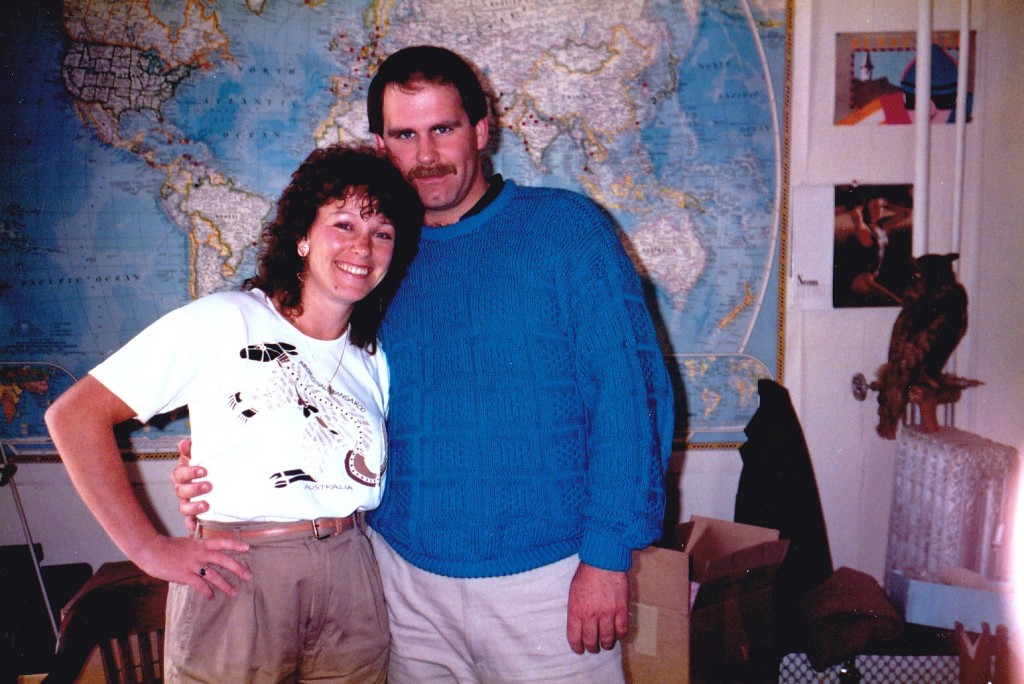 We started emailing each other as I still didn't have Skype at that point. We both had the same things on our minds and our questions were very serious like "where is this going?" and "what we should do about these feelings that we have?" We both realized that neither of us wanted to mess around anymore and we both wanted this to be serious. Luckily, I managed to get Skype connected and so we were Skyping up to 4 hours every day.
In early 2012 my mother passed away and Philip came to England to be with me for the funeral, which was very supportive and thoughtful of him. When he was on a sabbatical from work for a few months, he decided to come to Dubai and spend a month and a half with me. This was a good test for us as we had never been together for more than a week or two at a time. We had a great time together and even though we had two minor arguments during his stay, they showed us how well we deal with these things. It turned out that I can't hide my feelings from him and he really can't hide his from me either. We both intuitively know when the other one is angry or upset and so we talk about it.
By the end of 2012 we knew we were going to get married. Our conversations frequently ran along the lines of 'If we were to do this' and 'if somebody were to ask somebody a certain question…'. We were making plans for the future, as well as looking at plans of houses we would like to build. Our tastes are very similar and so we haven't had any clashes about property plans and decor.
The proposal
Philip invited me back to the States for Christmas in 2012. I spent some time in Boston with my friends Barbara and Phil. We also stayed with Philip's mum and her partner in Maine. We took a trip to New Hampshire a few days before Christmas for a long weekend to a very nice bed & breakfast that was when he proposed.
I expected him to ask the big question at some point on the trip but I wasn't 100% sure when. I did think it would come when we were in North Conway but it didn't happen when I thought it would and so I thought maybe he was waiting until Christmas.
Well, we had just returned from a romantic dinner and come back to our room. There was a fire burning in the fireplace and a bottle of champagne on ice and I realized all of a sudden that he wasn't waiting any longer! The innkeeper had clearly been in on his secret and had come into the room to prepare it while we were out. Philip then got down on one knee and that was it, he proposed!
We picked a date in September 2013 and after Christmas and New Year, I returned to Dubai.
Before I left, Barbara and I went wedding dress shopping in Boston, primarily with the intention of just getting an idea of styles. I had a certain style in mind but none of the dresses of that style that I tried looked or felt right. Just towards the end of the appointment, the consultant brought me a dress and said, "I know this is not what you are looking at but just try this style on." It was so completely different from what I thought I wanted but I tried it anyway… and it was perfect! The minute I put it on I knew I had found my dress and ended up buying it.
Philip managed a couple of trips to Dubai in 2013 and we spent 10 days in England in March to register our banns for the wedding. We found a venue we liked but only realized much later how our luck carried us through this booking too! When I called them in January I was thinking 9 months was plenty of time to book a venue. We wanted to book Saturday 20th September, but they told us they were fully booked. However, they had a cancellation on the following Tuesday. We asked them to wait while we made up our minds which they did, and since most of our guests would be travelling to England from oversees, we accepted the mid-week date. As we later found out, not only were they booked for the whole of September, they were actually booked right through to 2016!
We got married on the 24th of September 2013.
It was 32 years after we had met.
I was 56 and he was 57!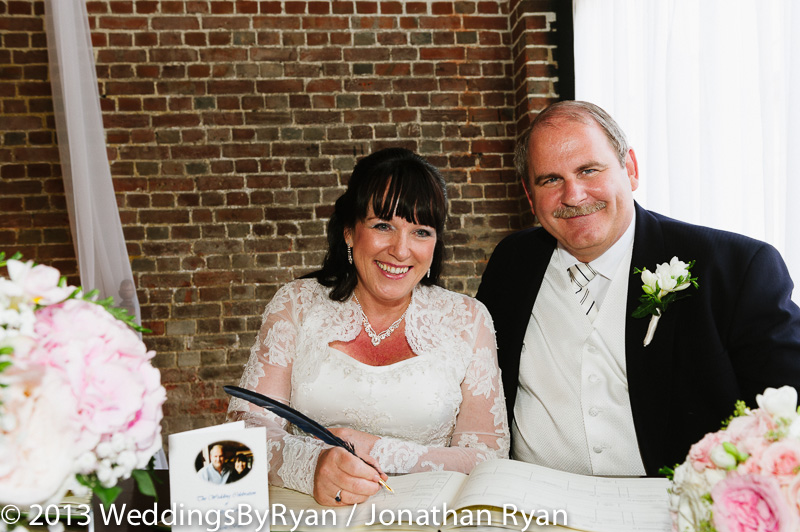 What advice do you have for anyone who is looking for love?
Don't look too hard. You can drive people away with desperation.
And don't over look someone, as it could be the person right next to you.
In 2010, my sister, who is very into spiritualism, took me to see her friend who is a clairvoyant. At this point, Philip and I had only reconnected as Facebook "friends" but we hadn't seen each other again yet. The clairvoyant told me that I was going to get married and that this person was already in my life. She said that it was someone I had already been with. I was thinking of all my past boyfriends but hadn't thought of Philip as we had really had a series of "flings". The thought of being with any other past boyfriend was actually rather unappealing. I really couldn't imagine who it might be. I wondered, if it is just someone in my life, maybe it is someone I work with. But there wasn't a single one of them that I was attracted to either! I would never have predicted at the time, that it would be Philip who was the man I was meant to spend the rest of my life with.
What advice do you have for couples going through a hard time?
Work on it. Depends on what kind of hard time you may be having I guess but I would say be open minded and put yourself in the other person's shoes. Unless someone is deliberately hurtful, you need to recognize that we all make mistakes in our lives – everyone is human and therefore fallible. But I also think that relationships actually do take work. Philip and I have to work especially hard on this as he lives in the States and I am living in Dubai until we sort out our immigration paperwork. Our only form of communication is Skype and emails. Sometimes the days are so very long that I want to switch off and be alone. But we always make the effort and I am always glad that I did. We always make each other laugh and we never run out of things to talk about.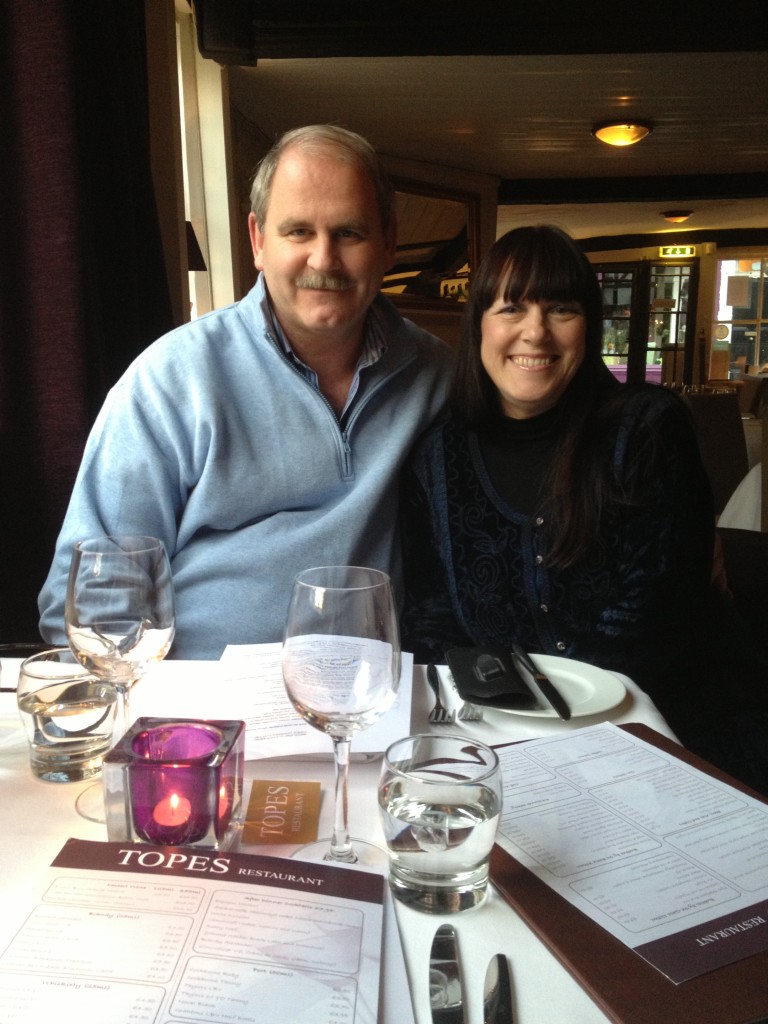 One thing I have learnt about love is…
It comes at you most unexpectedly and arrives when you are ready. I hadn't been in a relationship let alone in love, for years.
Philip and I didn't hook up properly in the beginning because of the distance: myself living in Holland and him in the States. We were young and couldn't afford to fly back and forth or even talk on the phone, which was very expensive then. Also, there was no way I could have gone to the States. It wasn't easy to go and work there.
We talk a lot about what would have happened if we had gotten together like this sooner. I have a letter from him dated 1988 where he says all his friends were asking him why on Earth he hadn't proposed me. But when we look back, his dream for as long as I have known him was to become a pilot and he eventually realized his dream. Maybe if we had been together he might have never had that opportunity, especially had we had children because that is expensive and so is putting yourself through flying school like he did.
As for me, I wouldn't have gotten to travel to the places that I did travel to and might have always longed for that.
So I think we got together at the right time. We are both ready for a relationship with each other. Being alone for so long, one gets used to having it their own way all the time. You don't have to consider anyone else's preferences. So you do get selfish living alone. It may take some adjustment on both our parts, but we are more mature now and we are ready!
Funnily enough, a clairvoyant told me that I needed to marry somebody who had been married before as they would have a lot more patience and understanding, having already lived with another person. Lucky me, I found the perfect person.

(Interview & write-up by Bianca)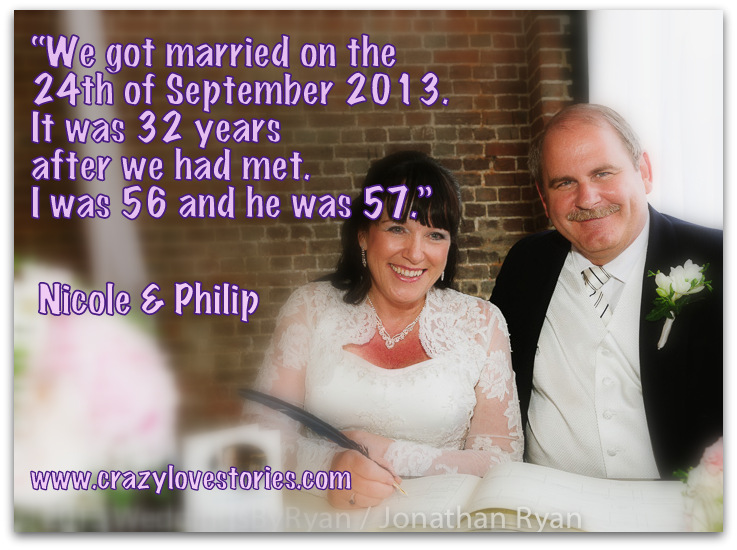 Comments
comments