Names:

Cathy & Earle
Status: 

Married
Been together since:

 1971
Cathy: It was August 1971. I met Earle when we started working for a mail machine company in Washington DC in the same department. I was the 'important' secretary of the big manager and he as the 'lowly' employee who used to answer service calls when someone had a technical problem like machine jams.
We started on the same day, a Monday, and he asked me out on Wednesday. I said absolutely not. This was because I didn't want to date someone that I was working with for one thing, but the real issue was that he had just had a fresh haircut and looked like a little kid who had just graduated from high school as well as a total nerd. Here I was; this mature and sophisticated 21 year-old. He asked me to think about it and I said I would.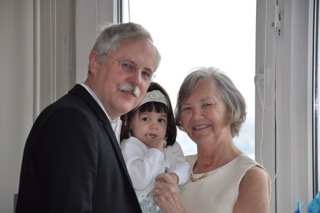 He came by first thing the next morning he asked me if I had thought about it and if I had changed my mind. I told him I didn't date younger guys. He asked me how old I thought he was and I said, "You look like you just graduated from high school!" and he promptly told me he was 22 and had just graduated from college. I didn't believe him and outright started laughing when he told me he had graduated from Transylvania University – it sounded funny and I thought he had just made it up. Little did I know that it was actually quite a prestigious university founded in 1789 in Lexington, Kentucky, by Thomas Jefferson.
He managed to persuade me to go out with him.
I spent the moments between then and our first date repeating over and over again to anyone who would listen that I didn't want to go out with him. I kept telling my friends he just sits around writing things the whole day and looks like such a nerd.
I used to rent a room for 12 Dollars a week from Mrs. Hattery, my landlord. He was about to arrive to pick me up for our date and I was also telling her that I just didn't want to date him.
Then he arrived and she met him. She shook his hand and then found a quiet moment with me and said, "This one's a winner – he's got a great handshake!" One handshake and he had won her over. I thought, 'Well, that's just not going to do it for me.'
Out we went… and what do you know – I fell head over heels in love with him that very night.
He was the first person who listened to every word I said and did not think that I was stupid or that my opinions didn't matter because I was a girl. See, growing up, especially in southern Maryland, we used to come across that a lot, people thinking, 'What would she know? She's just a girl'.
My mother had lost my father when I was 14, then my brother when I was 16. She would go through periods of violent darkness when she drank for days to ease her pain. This, unfortunately, meant she would try to exorcise her demons by taking things out on me. It wasn't very often that I had experienced kindness and affection, except from my grandmother who always said that she loved me as did God and Jesus. My faith had always gotten me through the darkest days of abuse.
Earl showed me another side of humanity. It was really heavenly to hear the words, 'Tell me more' and not, 'Shut up' or 'You're an idiot' followed by a slap. He treated me like an equal, always supported and encouraged me.
I had a 10 pm curfew with Mrs. Hattery and he did get me home in time but in those 4 hours we had together we talked about everything under the sun.
Our third date was quite magical. We got deep into each other's souls that night – it's hard to explain. We were at the Tidal Basin walking from the Jefferson Memorial to the Lincoln Memorial and just sat outside and talked and talked.
His integrity, his kindness, all those lovely qualities that he had, came through loud and clear. My intuition about people is pretty good and I sensed that this was a man who would really be very kind to me and would also be a great father. Family was really important to me and, as it turned out, to him too.
When I came home from my third date with him, I told Mrs. Hattery that this was the man I was going to marry.
On our third date he had asked me if I was husband hunting and I said, 'Yes'. Two years later I actually had to give him an ultimatum; we either get married and he commit to me or I would move on.
There is a small twist to this story; there was another girl – Libby. She was his sweetheart from college.
He had openly told me about his relationship with her. It would break my heart terribly every time he went to see her but I wanted him to do what was best for him and follow his heart. I told him to explore what he felt for Libby and let me know what his feelings told him. I needed to know if it was going to be me or not. I had always said that I would get married by the time I was 23 and I was 23 then. I was not going to wait anymore.
Looking back, I think this was a pretty crazy thing to do but I suggested that he take Libby home and introduce her to his parents. I said, "Try it out, see if it works!" One night his sister called me saying, "Cathy, what have you done?" I asked her why and she told me Earl had actually brought Libby home to meet the family. I crumbled to the floor. I was thinking that this was it, we were over. What I didn't know was that every night after she went to bed he would ask his family what they thought and all they would say was, "Well, she's not Cathy…"
One night as he was returning from a visit to Libby he got stuck in a snowstorm on the mountains of West Virginia. He said this song 'Precious and few' kept playing on his head the whole time and all he could think of was me and how little time we always got to spend together and how precious those moments were. He said deep down inside he always knew that he really loved me.
I had given him a month to think about the ultimatum. He took 3 weeks and proposed to me on April Fools Day. I knew he wasn't kidding but after we called and told our parents I said, "You know, if this is all a joke I will kill you!" He assured me then that it was not a joke but every year on April fools he says he really was kidding and I always tell him the joke's on him after 3 kids and 42 years of marriage.
It has been quite a journey. What he did back then was unthinkable: he handed all finances over to me. He told me that I had to pay the bills, save for our retirement as well as for college for the kids. This changed me completely.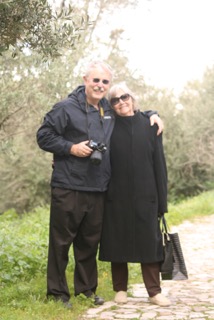 We had a son and then twins about 3 years after our son. I had no help and it was terribly difficult. My husband is a lawyer and represents billion Dollar corporations. He is a firm believer in always being available for his clients, which meant that whether it was a weekday, weekend, morning or nighttime, he would pick up that phone. We are very strong in our faith and I read a book about praying for your husband, which is what I always did.
The usual issues popped up in our lives together: money, decisions, other things. We were at the edge a few times but we realized we were each other's best friends. We worked our way out of all our troubles and stayed together.
In 1991, I was in a terrible auto accident where I was dead at the scene. I was in the hospital for weeks and he was there for me. I had many broken bones as well as internal injuries. He stayed with me through all my surgeries. His mother came to stay while I was in hospital and I think he realized once again all that I do while he works.
It was an understandably horrifying experience as I thought I had caused the deaths of my three children, aged 13 and 9 at the time, who were all in the back seat. Divinely protected, they did not have a single scratch on them but I didn't know that at the time. I was in and out of a dream-like state and I thought I was hallucinating every time they came to visit me. I held their hands so hard it hurt them. I was just terrified that if they left they would never return.
I saw the spirit of my father, who had passed away years ago, three times. He told me it was not my time to go yet. I told him my kids needed me in heaven but he told me they were not in heaven but in school instead and that they needed me here.
About an hour after the last visit from my father, a doctor friend dropped by confirming the same thing – my kids were absolutely fine and in school. An hour later they took me off the respirator. Another 2 hours later they moved me to another room. I asked the doctors how I could go home. They told me when I stopped taking Valium and morphine I was free to go. So I stopped and that was the end of that – I went home.
What advice do you have for anyone who is looking for love?
Look into yourself and think about what attributes you want in your best friend and look for that because your spouse will eventually be your best friend if they are not already. They will be and they should be.
Love is out there for everybody, male-male, male-female, whatever the combination is. You take care of yourself and look for the good in others and you will always find somebody.
I think fate and destiny play a big role. I know Earl and I were meant to be with each other. He grew up in Pennsylvania and myself in Maryland. It was too coincidental how we both started working there on the same day, how persistent he was insisting that I go out with him… there was such a pull there, we were meant to be.

What advice do you have for couples going through a hard time?
Think back to why you married them in the first place. Always try to look beyond the small issue which always looks like a big elephant in the room. It is not. The big elephant in the room is your love for each other. Try to remember that. If you can't then maybe it's not meant to be but in most cases I think if you really look at it and see why you loved that person in the first place, it goes on from there.
Before that though, first take care of yourself because if you do not love yourself and are not happy with who you are then how can you have the mental clarity to be loving and tender with another?
You have to have love, respect, to honor each other's integrity and you must have a sense of humor!
We are always kind to each other and help each other. Treat your partner the way you would want to be treated and love them deeply.
One thing I have learnt about love is…
It is more beautiful than you can imagine.
We just had a pretty serious health scare – which turned out to be a false alarm, thank God – but it again put things into perspective. So, live for today – nothing is given and tomorrow is uncertain – but today is here so open your eyes, smell the roses, look around you and enjoy life together.
(Interview & write-up by Bianca)
Read about our previous couple Meltem & Hakan.
~~~~~~~~~~~~~~~~~~~~~~~~~~~~~~~~~~~~~~~~~~~~~~~~~~
Subscribe!
~~~~~~~~~~~~~~~~~~~~~~~~~~~~~~~~~~~~~~~~~~~~~~~~~~
Read more crazy love stories with similar themes: 
Couples who found long lasting love.
Couples who have fell in love at the workplace.
~~~~~~~~~~~~~~~~~~~~~~~~~~~~~~~~~~~~~~~~~~~~~~~~~~
~~~~~~~~~~~~~~~~~~~~~~~~~~~~~~~~~~~~~~~~~~~~~~~~~~
Comments
comments