This is a beautiful story about how when you have courage, you have love.
Read about Philip & Safiyyah who met on Twitter. Coming from very different backgrounds and religions, they had the courage to quit jobs, move continents and handle family opposition to make their love survive. Married four months after they met, they took the shortcut to happy ever after!
What an incredible journey they have experienced. Read on…
Names: 

Safiyyah & Philip

Status:

Married

Been together since: 

2012
How my life changed
Philip: I was actually in a bit of a weird place before I met my wife. Everything in life had been changing for me.
The changes slowly began as I completed a two-year process and finally got accepted into the police force in the UK, where I am from. Having just turned 18, I was the youngest person to be accepted in the past decade.
Soon, I became very disillusioned. My dream of becoming a policeman had come about because I loved helping people. But I discovered that there is so much red tape in the way that in reality you spend much less time helping people that need help and much more time dealing with people who are idiots.
I always use this example: You arrest someone for domestic violence, bring them to the police station. As they are mouthing off, you try prepare the paperwork to document what went on.
Next thing you know, the person that they have assaulted has turned up at the police station to pick them up, dropping all charges in the process, and there you are left behind with nothing but frustration and at least three hours of paperwork. You really start to question why you bother trying to help people who clearly don't want your help.
I was increasingly disappointed and it became clear to see that there was no way I could be doing this for the next thirty years, I just couldn't. As a result, I made the decision and resigned from the force about eighteen months after I joined.
In order to get to that point though, I had to start doing some serious thinking about what I really wanted and that's when everything started to change.
Having the courage to quit everything and the rewards that followed
Having been a policemen, I'd seen some horrible things and realized that life is precious and can be taken away at any moment. Love and family was all that really mattered.
I had been in a long-term relationship for about three or four years. To be quite honest, for around two or three of those years, I knew that we shouldn't be together.
There were many reasons for us to stay together and very few for us to break up. Our families really liked each other and we didn't have any major problems personally between us, except for the silent fact that it had turned into more of a friendship than a relationship. There wasn't anything too pressing to justify the pain of breaking it off, so we just plodded along in our comfort zone.
Meanwhile, as I was still figuring out what path to take in life, I started studying property and surveying in university. But my pondering on what I wanted in terms of my career had also opened up a whole can of worms as it started to spill over to what I wanted out of life in general.
I had to face the fact that one major area in my life that really wasn't right was my relationship. Unlike before, I decided to step out of my comfort zone and started looking at this very honestly. Before, we would be ignoring the fact that we couldn't be together, but now I was confronting it head-on. At the end, the inevitable happened and we split up.
What followed was a chapter where I did all sorts of weird and wonderful things. One of the biggest passions I have in my life is my love of football and I'm a massive Liverpool fan. I had a friend who lived in Budapest, Hungary. He told me that there was a football coaching job available there and asked if I would be interested. It sounded quite appealing, so I said, "Why not?" and moved to Hungary.
I only knew about two people when I moved, but I soon made many new friends and had an amazing time there. It's a great city and an exciting place to live as a young, single guy.
Although I was living this carefree life, my ever-present sensible side was also very aware that my thoughtfully mapped out thirty-year life plan had crumbled when I left the police force. It was time to slowly start thinking of a new path as I was ready to get some stability again, but I wasn't quite sure where that was going to come from.
Meanwhile, I was just enjoying being me. I was studying in the UK and every term break and summer holiday, I would be in Hungary coaching football and playing around on social media—I was enjoying life and just having fun. My life was split between the UK and Hungary for a few years.
If you were to ask me, I wouldn't say I'm a particularly good writer, but football  is something I am very passionate about and I can talk about it endlessly. I had a fellow football-loving friend of mine who owns a couple of fan-based football publications. We would have long discussions about this mutual passion.
One day, after another one of our fun conversations, he said that he always really enjoyed my views on football and asked me if I would be interested in writing articles for his publications. He reckoned other football fans would really like reading them. This is how I started writing about football.
As he predicted, my writing was received with quite some interest. I guess it appealed to football fans because I was an Englishman who was living and coaching football in Hungary and had the unique position of being able to write from both the British as well as the Hungarian perspective. Plus, there were also many people interested in coaching abroad, so I think this contributed to the buzz.
Our intuition leads us to being jobless then being in love
Philip: In terms of relationships, they were totally outside my area of interest at this point. This is going to sound like a very male thing to say, but I was rather happy to just spend time going out drinking with the boys and talking about football as much as I wanted to. My ex and I had gotten together at such a young age that it almost felt like we had grown up together. Plus, we were together for such a long time that the break-up felt more like a divorce so I think I needed some time to reset and recharge my batteries. As a result of all that, I wasn't really focused on relationships—neither getting into one nor getting out of one.
If you were to say I'm the kind of person who follows my passions and gut, I would say that is spot on. Even if it meant I was heading into uncertain territory, I would still follow my gut and definitely do it. That also is evidenced in my career moves: I left the police force and went into studying property. Doing property led me into recruitment within property, which led me into doing recruitment and staffing internationally. Then a marketing agency which asked me to do some recruitment for them liked me and offered me a job in marketing and advertising, which I accepted because it felt right. Now, I own two marketing and advertising agencies.
My career has definitely been influenced more by the heart than the head and this is a reflection of my approach to life in general. If something feels right to me, I will go ahead and do it. If it doesn't, I don't try to make it fit, I'll just walk away. I'm not a square peg in a round hole kind of guy though. So although I wasn't looking for a relationship, I would have followed my heart had it felt right.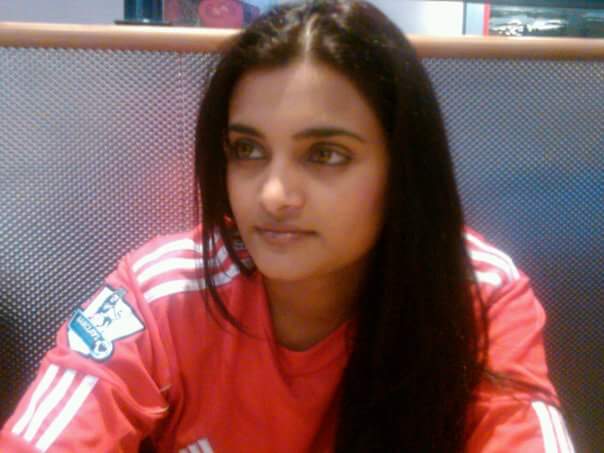 Safiyyah: Before I met Philip, I was in Johannesburg working in the South African tax services company, the Revenue Services. I was there for about six years but I didn't really like my job, but it was my job, so I did it. My relationship history was nothing out of the ordinary: I'd had my heart broken a few years before and had dated someone at work, but it was nothing serious.
My team leader was going on a two-week cruise-ship holiday in Cape Town. There was a bunch of them going and they had already bought the tickets, but one of the couples had unexpectedly broken up a week before they went, so there was one last minute ticket available. She was a good friend of mine and asked me to join them, so I did.
When we were in Cape Town, they decided to go to a fortune teller. Initially, I refused to go in for a reading because I don't believe in that kind of thing. But everybody that went  in came out saying that she was amazing and had been right about everything. I was still very skeptical but thought, 'Right, I'm going to go and see for myself if this woman knows what she's talking about.' She did!
First, she didn't say it in so many words herself, but she made me come to the realization myself that I was in the wrong job. She also told me that my life was not going to be where I was living now. According to her, if I stayed where I was, I would not find happiness, happiness awaited me in another location. I would need to make some big decisions and was going to have to move.
Myself and my four sisters lived in Johannesburg and we were all incredibly close. We did everything together, so this was my first holiday without my family. Although I would commute to go see family over weekends and school holidays, I'd never traveled abroad and Cape Town was literally the furthest I'd ever been away from home and it was only a two-hour flight. At that time, the only place I could ever imagine moving to was Cape Town, where my mom lived, so when she said I would have to move to find happiness, I assumed that's where she meant.
After my holiday, I lasted in my job for about two more months before I handed in my resignation. My decision was one hundred percent based on what the fortune-teller had told me, as well as a very strong feeling that I still can't explain, which made me feel that this was the right thing to do.
I knew it was a silly, as well as quite a courageous thing to do because I had no back-up plan, no other jobs lined up, no idea what I was going to do—all I knew was that I'd had enough.
Although I had no immediate pressure, as I was living with family and didn't have to worry about things like rent, I was still scared. The feeling that I did the right thing was still quite strong so I took comfort in that.
I moved to my mom and stepdad's place in Cape Town for about three months. They were working but I wasn't, so I made the most of my new life. My days were really chilled out—I would wake up in the morning, go for a run, go to the beach, read lots of books and just enjoy this new way of living.
Unfortunately, a string of sad events took place. First, my dad got sick so I had to go back home. Shortly after that, my maternal grandmother passed away.
Here I was back in Johannesburg with no job, no career prospects and a series of sad events surrounding me. I found my comfort in social media.
How Twitter and our love of Liverpool brought us together
Safiyyah: My father is a huge football fan. He lives and breathes Liverpool, the football team, and because of my dad, I'm a massive Liverpool fan too.
I used to be on Twitter all the time chatting to different people all over the world, especially on days that Liverpool was playing, and that's how I met Philip.
Philip: I always say that there is one person out there for everybody but what is the likelihood of that person going to your school, growing up in the same village as you or sitting next to you at work? The odds of that happening are slim to none. And this is why I believe with the internet people now have the ability to contact people on the other side of the world, so you have a far better chance of meeting the person that's meant for you.
I joke about how I'm waiting to where online dating progresses to the point where you will be able to leave feedback on your dates and you can check out some stats before you choose to date someone.
It was June 2012. I shared an article that I had written for a fan site on Twitter. It was probably me moaning about football, which is something that still hasn't changed, which sparked some interest. I was open to people who wanted to drop me a message or give me feedback. People were commenting on it saying that it was really enjoyable and such when I got a notification that someone had retweeted my article.
It was a girl called Safiyyah.
In her profile picture, I could see that she had a Liverpool shirt on. Although she was looking away from the camera, and this is going to sound really cheesy, she had these massive eyes which were absolutely stunning. I was instantly captivated.
This was quite strange because I'd never found myself actually attracted to other ethnic groups before, ever.
I think it perhaps goes back to what you are used to. Growing up in a white area,  Indians, black girls or Arab girls had never caught my eye, perhaps because I never saw them around. I'd only been exposed to white girls and had only dated them. Safiyyah is Indian and she is very tanned, unlike anyone I've ever liked before.
I sent her a private message in which I said, "I like your shirt, I prefer your eyes," and she wrote back saying, "They are contact lenses."
And that's how it all started.
Safiyyah: I couldn't see his profile picture properly because it looked like he had taken it in the dark, which he had.
Philip: It was taken in a  night club so you could hardly see me.
Safiyyah: I used to get a lot of guys private messaging me but I never used to reply because I wasn't on Twitter for that reason. It even used to annoy me—if you have something to say, say it in public, you don't have to private message me. But for some reason, I replied to Philip. I don't know why. Philip likes to say it's because I saw his picture but that wasn't it at all.
Philip: Maybe if she had seen my picture, she never would have replied. Who knows?
But thankfully, she actually wrote back to me.
We started chatting on Twitter—me in the UK and her in South Africa. We exchanged messages there for a few days before we exchanged phone numbers and moved the conversation to WhatsApp.
How we fell in love
Philip: I think there were only 3 to 4 days between our first Twitter message and us falling asleep on the phone together every night.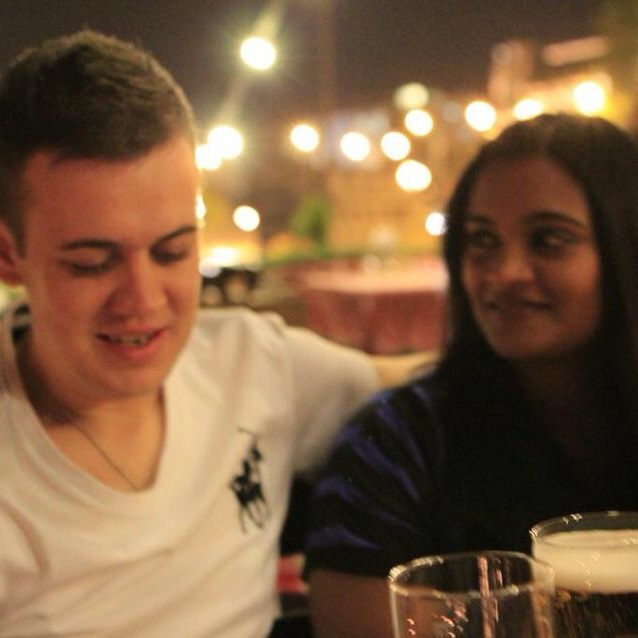 What I was feeling was quite strange. The best way I can explain it is that it didn't feel like I'd met somebody new. It was more like there was a person that I already knew who'd gone missing, I'd been searching high and low for her and I'd finally found her again.
Before, whether I was in the wrong relationship, or single and alone, there was a really weird feeling of yearning that I don't know how to describe. It's as if you're missing somebody, but you don't know who it is that you miss. So when you meet that person, it all falls into place and you realize that was the person you were longing for. Once that person is in your life, you never want to feel that yearning again so you don't want to let them go. I reckon that's why everything goes so quickly in relationships sometimes.
Long distance relationships are hard by nature. Meeting Safiyyah, I knew that this was the person I was supposed to be with, yet she was very far away and I hated that.
Being away from her was actually very painful for me, which was very non-sensical because factually, I'd been far away from her all my life since I'd never met her in the first place. I didn't have a time when she was actually in my life as a frame of reference to compare it to. It made no sense for me to be missing her as painfully as I did, but I was, and all I wanted was for that pain to end, but she was so far away…
Muslim/Christian relationship challenges and how we got our families to accept us
Philip: Meanwhile, we also had other issues at hand. Frankly, we were both quite worried about each other's families.
Safiyyah is from an Indian/South African Muslim family and I am from a white British/Irish Catholic family. We are from very different worlds, religions, cultures, and backgrounds. I think we were more worried about how our families were going to respond than about how we would get along as a couple.
Safiyyah: I wasn't too worried about my family, I was mostly worried about my mom.
Philip: Her mom and dad were divorced. Safiyyah lived in Johannesburg with her sisters and spent most of her time with them and her dad, who lived an hour away. She wasn't as close to her mother, who had remarried and lived in Cape Town. Although they would only catch up on holidays and special occasions, her mother's opinion was understandably still very important to her.
In terms of practicality though, Safiyyah's thoughts initially lay with her father and she wanted to make sure her dad felt good about all this.
The internet is not great in South Africa and Safiyyah's credit would get chewed up rather fast. Although we did Skype face-to-face a few times, we would end up talking on WhatsApp most of the time, chatting and leaving each other voice messages.
My first introduction to her sisters was over Twitter but we soon started communicating via email. We then set up a big WhatsApp group which is where we all started to get to know each other much better chatting everyday.
Eventually, somebody said, "Well, I think it's about time you meet her dad." He was also added to the group and that's how I first met him.
I was actually really nervous about that. Although Safiyyah is one of four sisters, everybody jokes about how she's her daddy's favorite girl, including her dad himself, so there's definitely an element of truth in that.
I realized that this was definitely a make-or-break thing. If he disliked me, that was most likely going to be the end of us. Thankfully, we hit it off right from the very start.
It definitely helped that he was also a huge Liverpool fan. We would be talking on WhatsApp and I'd tell him I wouldn't be able to talk for a few hours. He'd say, "Oh, are you going to be watching the game?" to which I would respond with a photo of myself in the stadium.
Solving the long-distance issue, a small lie and a big surprise  
Philip: Everything was going really well virtually, but how would everything work out in reality? I come to the realization that Safiyyah's whole world was in South Africa. She was living with her family and because she wasn't working, she wasn't exactly flush with cash so it would be really difficult for her to be able to come over to the UK. I could see that if we were ever going to make this work, I would have to be the one to bite the bullet and take the leap.
The story I gave Safiyyah was that I was randomly offered a job in Johannesburg, which I had accepted. I told her that it was nice and convenient for us too, as it would also give us the opportunity to meet.
But that was a lie.
I'd told her that so I wouldn't look like a stalker.
In actual reality, I'd tried really hard to get that job in Johannesburg. I must have emailed a hundred companies trying to find a job there! At the end, my job came about because I went to one of my university lecturers and asked him if he knew anybody in Johannesburg. It turned out that he had a friend there who was into property who could probably assist me and that's where my job ended up coming from. It definitely wasn't as easy as I made it sound. On the contrary, it had taken a lot of effort to make it work.
Finally, it was happening – I was really moving out there!
But I didn't want to tell Safiyyah that I was going and wanted to make it a surprise. I'd been secretly liaising with her sisters behind her back for about two or three weeks. They knew absolutely everything and they didn't tell Safiyyah anything.
We had met in the middle of June and I was on a plane to South Africa by the end of August.
Technically, I had a return ticket, as I was on a three month holiday visa offered to UK citizens which you received on arrival. One of the conditions to get it is having a return ticket.
But to me it was a one-way-ticket in all senses because I had no intention of leaving, ever!
I'd gotten rid of my apartment and all my stuff back home because I was sure I wasn't coming back, so there was nothing to go back to anyway.
I was starting my new job in a few short days and had a place to live as they had arranged for my accommodation. I'd also done my homework and already knew how to apply for an extension for my visa once I arrived.
So in my heart, I knew I was never going anywhere—I was there to stay.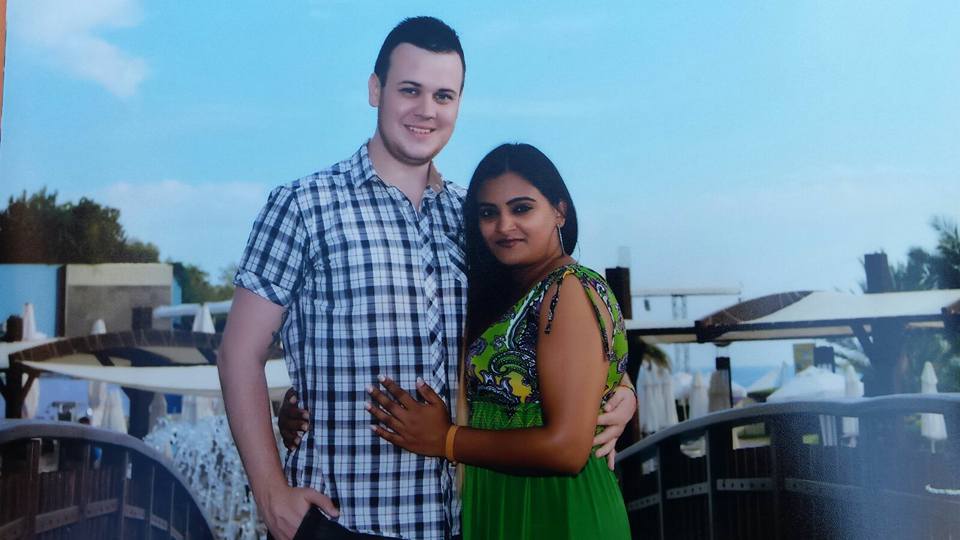 Safiyyah: And I had no idea! They didn't tell me that he was coming.
My sister's birthday was on the 25th of August, which was a weekend, but for some reason she'd taken that Monday off and was having a birthday breakfast. It was just my sister, her boyfriend and myself. I didn't have anything else planned for the day, so I said I'd go.
That morning, we got ready for breakfast, got in the car and my sister started driving towards the airport. I said, "Are we going for breakfast at the airport?" That was an odd spot for breakfast and I slowly started to suspect something might be happening at this point because Philip hadn't responded to my messages for a few hours either. Yet, I still couldn't bring myself to believe that he was coming, it was too soon and felt a little strange. I still couldn't get anything out of my sister.
We were at the airport having breakfast when she suddenly said, "We need to go."
When I said, "Go where?" she didn't respond again and just started walking towards arrivals. Now I knew! I kept asking her, "Is he coming? Is that why we're here?" but she just kept smiling and still wouldn't give me an answer.
Philip: I got off the plane. My phone was not connected to the internet so I had no idea whether they had told her anything or what was going on.
Other realities were also dawning on me which were frankly were scaring me a little—I had no idea what kind of airport this was, how many people would be in arrivals, if we would actually be able to find each other, what the hell I would do if they didn't show up or if I couldn't see them—I'd just upped and come to a country that I knew almost nothing about.
A little family fight
Philip: Perhaps I was also feeling slightly unsettled because my parting from my mother had not been uneventful.
My family is the opposite in size to Safiyyah's. She has a huge family and mine is really quite small. Since my father passed away many years ago, it's just me, my mom and my younger sisters. My sisters were used to me disappearing frequently and being abroad whenever I got itchy feet. In fact, there was a running joke between me and one of my best friends as every time he would call me, the first question he would ask me was where in the world I was, because I was always somewhere else. So, although my sisters were sad for themselves, they were happy for me doing something I wanted to do.
My sisters were fine.
My mother, on the other hand, was not fine.
She actually told me that if I left, she would never speak to me again. So I left alone—she didn't agree see me, drop by to say goodbye or come to the airport.
My ex-girlfriend was a white, Christian girl and my mother really liked her. In fact, they were so close that my mother always joked that if we ever split up, she'd retain custody of my ex. That was the picture my mom had in her mind for many years about the woman I would marry. Then everything had changed in a flash and I was suddenly moving to another continent as I was in a relationship with a non-white, Indian Muslim girl. She was definitely not happy, to say the least. This was a far cry from the white British Catholic girl that she always thought I'd marry. It was very difficult for her to accept what was happening and she was very vocal about it.
This might have sounded a little bitter when I said it, but I had warned my family that my ex didn't have the purest of intentions. Her enduring interest in my family wasn't out of affection for them; she had an ulterior motive and that motive was me. My family refused to believe that and in my mother's eyes, she was still the perfect wife for me.
Since my mother wasn't speaking to me at this point, I was to find out months later what'd eventually happened between my ex and my family. It turned out that my ex was still going to my mom's house every weekend for dinner. She still hoped that I was going through a phase and that we would get back together.
Unfortunately, I was proven right because when she'd eventually found out that Safiyyah and I had gotten engaged, she'd dropped my family completely. She'd stopped calling them, stopped going around, blocked them off all social media, deleted their numbers—she'd removed them from her life fully. And this was really heartbreaking for them because they had a relationship with this person and she cut them off so coldly.
I couldn't quite help the feeling of 'I told you so' when I heard about all this a few months down the line. Now they finally could see what I had been warning them about. Unfortunately, despite my warnings the blow had still been very painful for them.
As it stood though, I had landed in South Africa with the burden of knowing that I didn't have my mother's blessing on this path that I had taken.
We finally meet in person
Philip: Safiyyah was also annoyed with me! She assumed that I was the last one off the plane as she had to wait for so long for me to come out.
This was entirely untrue: I was actually one of the first ones off the plane, but I felt I needed to go to the restroom and freshen up a little. I had just gotten off a thirteen-hour overnight flight and I couldn't let her see me looking like that as I felt quite scruffy. I had to make a good first impression, so I brushed my teeth, washed my face, fixed my hair, changed, and only then got my suitcase and came through.
And it's probably a good job that I did that, because when I went to the bathroom and saw my reflection in the mirror, I realized that I did indeed need an intervention. I guess it worked—she didn't blank me and pretend it wasn't her when she saw me.
Safiyyah: I actually jumped over a barrier to get to where he was when I saw him.
Philip: She jumped over this fence that visitors weren't supposed to cross and into the arriving passengers' section.
The very first time we saw each other I think I dropped my suitcase. I don't remember saying anything, but I do remember hugging her for about five minutes.
Safiyyah: We just held each other for about five minutes without speaking. Neither of us wanted to give it a break.
Philip: Her sister told us later that my brother-in-law had said to her, "Look how happy he is," to which she responded, "And look how happy she is."
We were both cuddling and were, indeed, really happy.
I don't think we lost physical contact for the remainder of that day. We were either holding hands or linking arms—we didn't let each other go.
Safiyyah: We were in the taxi heading to his hotel to drop off his suitcase and I just couldn't stop looking at him. One minute we were texting on two sides of the world, and the next minute not only was he was sitting right next to me, but he was also here to stay.
Everything had happened so quickly, so suddenly that I hadn't had a chance to process anything. I couldn't take my eyes off him and I stared at him the whole time. That's when we had our first kiss.
Philip: Despite the fatigue and exhaustion, emotionally and physically, our first day together went wonderfully.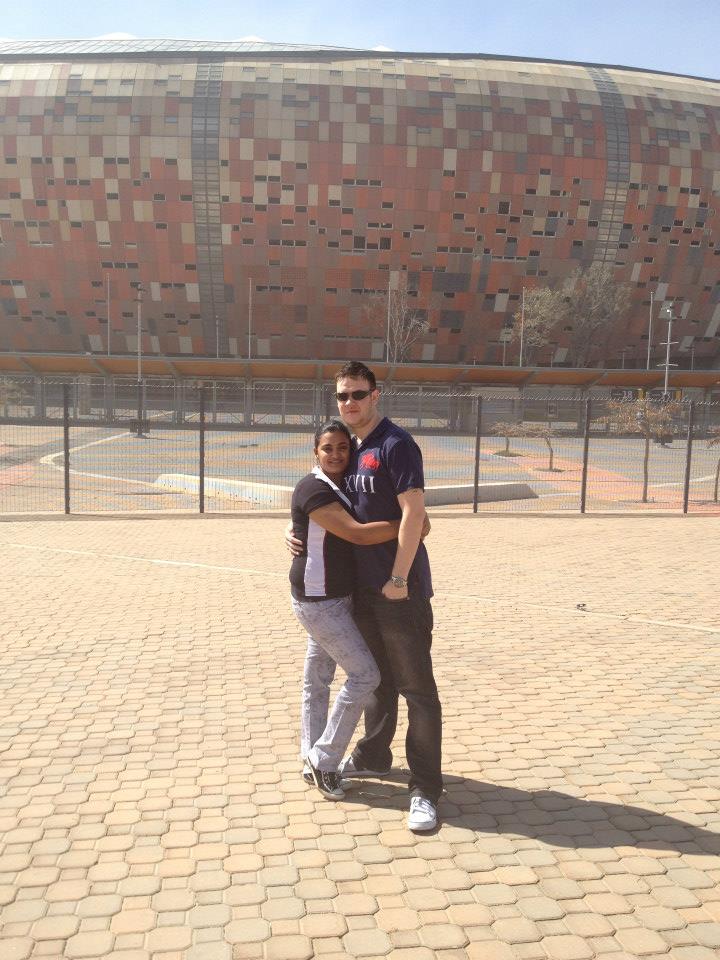 Settling into Safiyyah's life
Philip: The next two days were a whirlwind because I was settling in to this new country, preparing to start my new job, meeting Safiyyah's family and all the while Safiyyah and I were also getting to know each other. Her family wanted to do more and more things with me to try to get to know me better so they were always inviting me places. We were all spending a lot of time together, except for her dad who lives further away and comes to visit on weekends.
Finally the weekend arrived and it was time to meet him.
I think everybody was really nervous about us meeting. When he pulled up outside the house, her sisters were literally jumping up and down with excitement in the kitchen saying, "Oh my God, he's here! How's it going to go?"
Funnily, he came in and we saw that we were both wearing Liverpool shirts.
I said, "Hey, it's nice to meet you."
He said, "I like your shirt," and I said, "I like yours," and that was pretty much it. Her dad's just a lovely guy and we get along like a house on fire.
It also helped that I'd given them all a bit of a bribe. The whole family are massive Liverpool fans so I bought the new Liverpool shirts for that season and dished them out everyone. Every time we went out together, we were like this huge multi-colored gang wearing Liverpool shirts. We must've looked like such a strange group.
Football has a way of bonding people. Her dad's like me—if there's football on, he'll watch it, even if it's an amateur game. We always chill in the lounge watching and talking about football while the girls are doing their thing around the house.
It had always been his life-long dream to watch the games live in Anfield. Who knew I'd actually be able to share this with him a few years later? Safiyyah's father, one of her sisters and a nephew were in the UK to visit us after we had moved there. I managed to get tickets to Anfield for a game for everyone, all hardcore Liverpool fans, at the main stand.
Everyone, except for myself and my father-in-law.
For us, I managed to get tickets at the world-famous Kop.
The Kop it is definitely the one place every Liverpool fan would love to stand in at least once in their lives before they die. It was an amazing experience for both myself and my father-in-law and it was also the only time I saw him cry!
When I went to where Safiyyah grew up in South Africa about a year after that to meet her extended family and friends, as we were walking around, everybody was saying, "You're the son-in-law that took him to Anfield." He still talks about that.
How we got married 
Philip: It was a blessing that I got along so well with her dad because things were progressing very rapidly between myself and Safiyyah. I was ready to ask her to marry me about a month after I arrived in South Africa. Enough was enough, we knew we wanted to be together and that was it.
With my typical open fashion, I said to Safiyyah, "I want to ask you to marry me, but I want to ask your dad's permission first and I don't know what he's going to say."
It was such a short little time since we all met, I had no idea which way this could go and that was making me nervous.
That weekend, her dad was in the lounge watching football and I walked in.
It was just the two of us.
I went and sat next to him.
He said, "Hey, are you okay?"
I said, "Yeah, I'm fine…" which wasn't quite true because my heart was racing madly, "I just want ask you something."
He said, "Okay, go on."
"You know Safiyyah and I were talking before I came here?"
"Yeah."
"And we're both really happy," and he said, "Which makes me happy."
This gave me a bit of courage so I continued, "Well, I want to ask Safiyyah to marry me…"
He stayed really quiet for a while and continued to stare at the TV. Then he said, "What are you asking me for? I'm not going to marry you, go ask her."
"I was trying to ask your permission."
He said, "Just do it," and the sentence right after that was, "That goal that he just scored was offside. Watch," and he showed me the replay and continued talking about football and the permission issue was over and done with, almost like I asked him if he wanted a cup of tea. He was fine with it!
I went into the room. Safiyyah was all huddled up on her bed hugging her pillow and looking extremely nervous, agonizing over what he was going to say.
I told her, "He said 'Yes'!"
She jumped off the bed and gave me a big hug. We were both overcome with emotion.
Some time later, we were in the kitchen sharing the news with her sisters when her dad walked into the kitchen. He opened the fridge, got a bottle of coke, put one arm around Safiyyah, give her a big hug, kissed her on the forehead and walked back to the lounge to carry on watching football.
Later on, he asked Safiyyah the question that was on everybody's mind, "So, when are you telling your mother?"
Everybody had warned me that her mother was going to be the problem. At this point, her mom knew the whole story but had chosen to ignore it in the hope that it would go away.
I told Safiyyah, "Let's bite the bullet and go see her in Cape Town." Soon, it was arranged. We were going to go visit her mom and stay with her.
There is a little plot twist here to the story because when we got there, her mother was actually really nice to me. Not only did she do the whole Indian mother thing and wouldn't stop feeding me, she actually took the time and made the effort to really get to know me. We had a lovely time.
My explorations of Islam
Philip: The trouble started after we left.
She started voicing her opinions to Safiyyah's sister saying that she wasn't sure we should be together and asking if I was going to revert to Islam. When her sister said that nobody had actually had that conversation as it just wasn't brought up, she really wasn't happy about it.
When I first met Safiyyah, I didn't really know anything about Islam other than all the negative things beings said about it on the media here. But I wanted to learn more about the religion so I started my own objective inquiries. I went and met a local imam whom I could discuss it with and spoke to many of my Muslims friends online. Then, I went and got a translation of the Koran which I read. The more I researched, the more I understood. On the whole, I became more and more comfortable with the religion.
Ironically, my mother-in-law putting pressure on me to become Muslim almost halted the whole process. Although I was reading, learning and understanding Islam and everybody was being very supportive, as you can see from my history and my career, I don't do very well with people telling me what to do, so this almost pushed me in the opposite direction.
I reverted to Islam a number of years ago, long after we got married. I wouldn't say I'm the best Muslim in the world, I'm still learning. Our first daughter was two weeks old when I reverted and both of our kids will be raised as Muslims.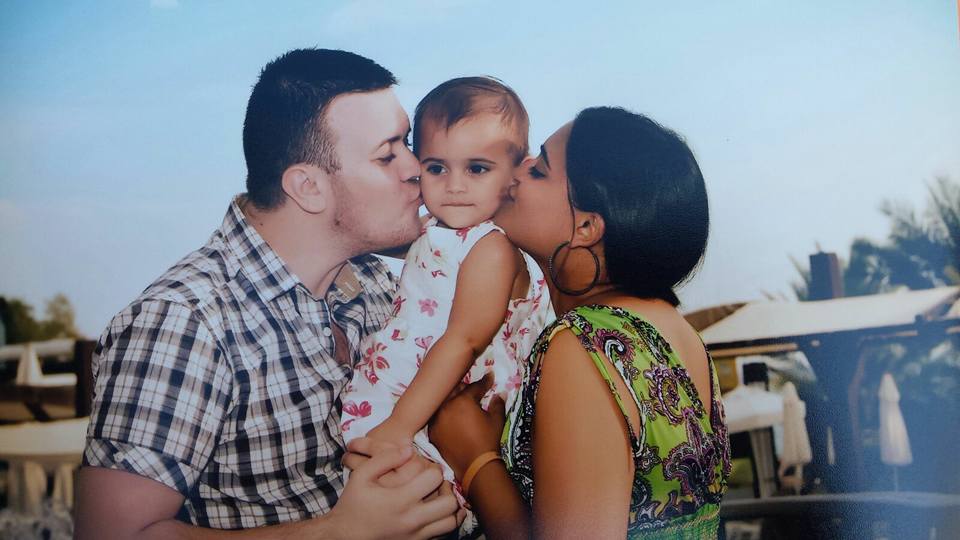 Our cozy wedding and rebuilding family ties
Philip: My mother and I were still not speaking when we got married. In fact, I don't even think she knew where in the world I was. She just knew that I didn't live there anymore so she had no idea about the upcoming nuptials.
I think it's different for men and women when it comes to a wedding. Women like a big song-and-dance but my feeling about the whole experience with Safiyyah was very different right from the start. Since it felt more like I'd found the missing person I'd been searching for, in my head we should have been married already, so I just wanted to do it quickly to make up for lost time. To me, we were already way behind schedule.
We got married in October, around four months after we met.
Safiyyah's sister and brother-in-law were the witnesses and the ceremony was very small, intimate and quite wonderful. It was also too fast for her mother and she wasn't pleased.
We lived together in a pretty big house in Johannesburg—my wife, her sister, her sister's husband and her other sister. Her mom joined us too for a few months on holiday.
During her stay, we were both making an effort to get along, but there were a couple of occasions where things really blew up because of the things she'd said, and we argued in front of everybody.
I jokingly say that this is when she started to like me because I was a person that  actually stood up to her. She is a very strong character and people are scared of her. When she starts shouting, everyone goes quiet and tries to agree with her until she punches herself out and calms down. I wouldn't do that.
The arguments started when she'd say something and I'd say, "Well, that's your opinion."
"Well, my opinion is important!"
"Your opinion is important to you, but it's not important to me. What matters to me are the opinions of my wife and unborn child. If you want to be a part of our lives and know your grandchild, you need to stop being like this. So, if you are unhappy with something that's your problem, not mine."
We started to get along better and better from that point forward. In brief, although she hated me at first, she loves me now.
My mother was a very different story. A little while after our wedding, my sisters contacted me to tell me that my mother had cancer again. When you're family, no matter what the past is riddled with, at that point all arguments go out of the window.
My mother and I started speaking again. It was going to be a tough road ahead for her with her illness and we wanted to be with her. As we were filling each other in on the past few months, I told her that we were pregnant. She was shocked and took it really badly. In her fury, she said things to really upset us and it worked—we were both deeply hurt. She didn't want to have anything to do with us, anything to do with the baby, anything to do with anything and lashed out so furiously that I almost cut her off for good.
Interestingly, although the brunt of her anger was directed at Safiyyah, it was Safiyyah who wouldn't let me drop it. She kept saying, "She's your mother," and insisted that I not let her go. We talked it out.
If we went to the UK to see my mom, we wouldn't have anywhere to stay initially, so we were going to have to stay with her when we first flew over. My mother is quite religious, so she said that although we could stay with her, we would have to be in separate rooms. When I asked her why, she said, "I know it's putting the cart before the horse because you're already pregnant, but you're not sharing a room under my roof."
That's when I said, "What, I can't even sleep in the same room as my wife?" and that's how she found out we were actually married.
Things flared up again. She was very upset that I had neither told her nor invited her to the wedding. There was a whole conversation as to whether or not she would have come and how I never thought she would have wanted to be a part of it.
At the end, I told her the same things I'd told Safiyyah's mom: It was our lives and our decision, not anyone else's. We wanted to get married, so we did. Ideally, I wouldn't have wanted anyone to be upset over this, but was very clear with her that we wouldn't have changed our decision regardless.
How we achieved peace within the family 
Philip: A lot of couples break up and make up again. Although we have gone through a hell of a lot together, we have never gone through that. It has certainly not always been smooth sailing and, just like everyone else, we also have our arguments but for the most part, everything that has happened has only made us stronger as a couple and made us a real unit. It's like a song—us against the world—and we're okay with that.
Our turning point came with the realization that when it came to our families, we could never keep everybody happy. It simply wasn't possible. The way I started to look at it was that the most important people for me were my wife and children. As long as that was intact, everything else was a big plus.
That's how we got to the stage where we stopped trying to please everyone and just told them, "It's our life and our family. If you want to be a part of it, accept it. If you don't, then go away. But whatever you do, just stop moaning about it." My stance now is that if anyone shows any disrespect to our family unit, I will not stand for it and will write them off if I must to protect our peace of mind. I'm also not going to lose any sleep over that.
We finally managed to sort things out and agreed on us going to go to the UK to spend some time with my mother.
It was a very delicate relationship and it took a long time for the bitterness and friction to be cleared out between Safiyyah and my mother.
Things are much better now and her and Safiyyah get along really well for the most part. We have our ups and downs but she's an amazing grandmother. Both of my kids adore her and I dare to say that she's a better grandmother than she was a mother.
Our move to the UK was meant to be
Philip: When we moved here to the UK, we'd said we were only going to be here for short period of time until my mom got better. That 'short period of time' has now turned into four years as unfortunately my mother couldn't quite make a clean break from cancer and it kept coming back, so it's been quite turbulent.
I do believe that we were meant to be here in the UK for this period of time though because it was quite strange how doors magically opened for us when we decided to move.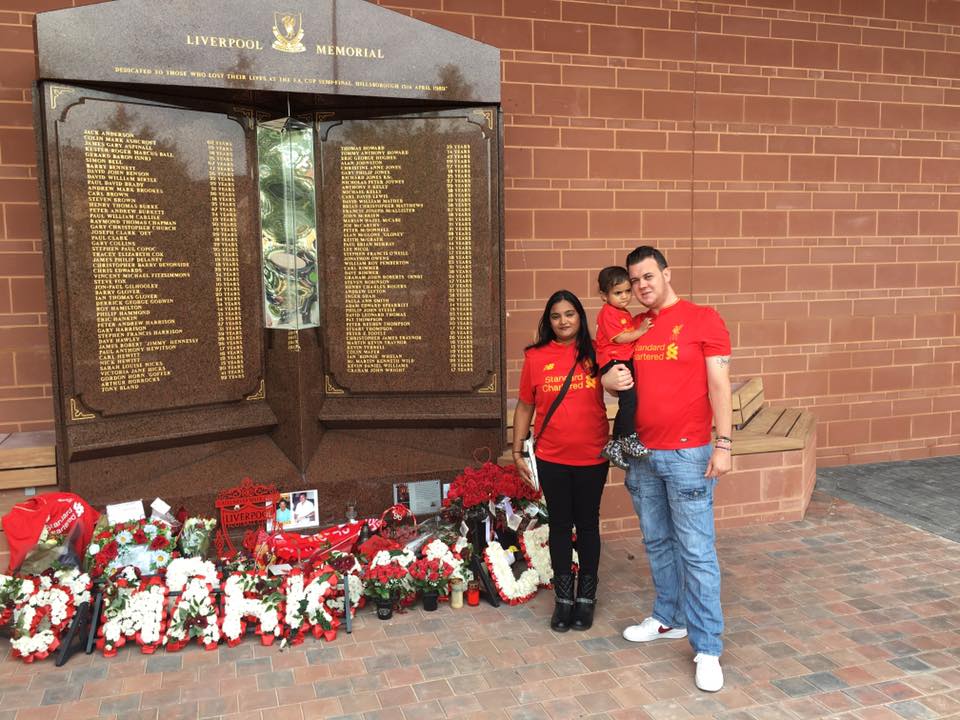 When I tried to bring my wife to the UK, I wasn't allowed to because of visa laws. We researched it and thought the only option we had was for me to spend a year to eighteen months working in the UK without my family and then apply to bring them in. A lot of people still do this where they have to place their loved ones in another European country and see them on weekends, it's quite sad.
Since I had spent some time living in Hungary, we decided to move there first until we could apply for a UK visa as a family.
What happened to us after was pretty bizarre.
When we moved, we went to the British embassy there and the lady behind the counter asked what we would like. We said that we would like a spousal visa for the UK and, as I expected, she told us we would not get that. But I did not expect what she said next as she told us something we had no idea about. She said that any European national is entitled to bring their spouse along permanently to any European country they wish to reside in. All I had to do was apply as a European citizen under an 'EEA Family Permit Visa'—something that I'd never heard of despite my thorough research.
We were slightly skeptical but we applied for the visa. Four days later, we got a phone call saying the visas were ready. We could hardly believe it!
When we went there to pick up Safiyyah's passport, the counselor came out, handed her the passport, showed her the visa page and said, "Congratulations, enjoy your trip to the UK." And that was it, it was that simple.
Our lucky stars were definitely aligned as we would've had no idea that it existed had the nice lady at the reception in Hungary not told us. I think our chapter in the UK was meant to happen.
Neither of us really like living in the UK at the moment and we don't really want to be here but, as with everything, there are positives in addition to the negatives and I can see why this time was actually quite a good thing for us.
Culturally, it's been a little bit difficult as Islam is not seen in the best light. I look like a white British guy so I don't have to face any of that, but I know my wife is particularly uncomfortable with the way things are. It reflects on both of us and is upsetting.
There was a bombing in Manchester a few weeks ago and the feeling on the tube was very different. Everybody was quite cautious and you could feel the tension in the air. Shortly after, there was another terrorist attack in London.
It's quite nerve-racking trying to go about your daily life with safety on your mind on every move. 'Do I want to be in this crowded place today? Do I dare take the train?' It's not a nice feeling.
Saying that, a big positive of being here is that I have done great things in terms of my career. My wife is a stay-at-home mom and setting up our future financially was fast-forwarded. We're now in the stage where we can sensibly move somewhere else and business and finances will be fine. I probably would never have been able to do that this fast had we been abroad. We have also been blessed with a second baby girl here.
Our plans for our future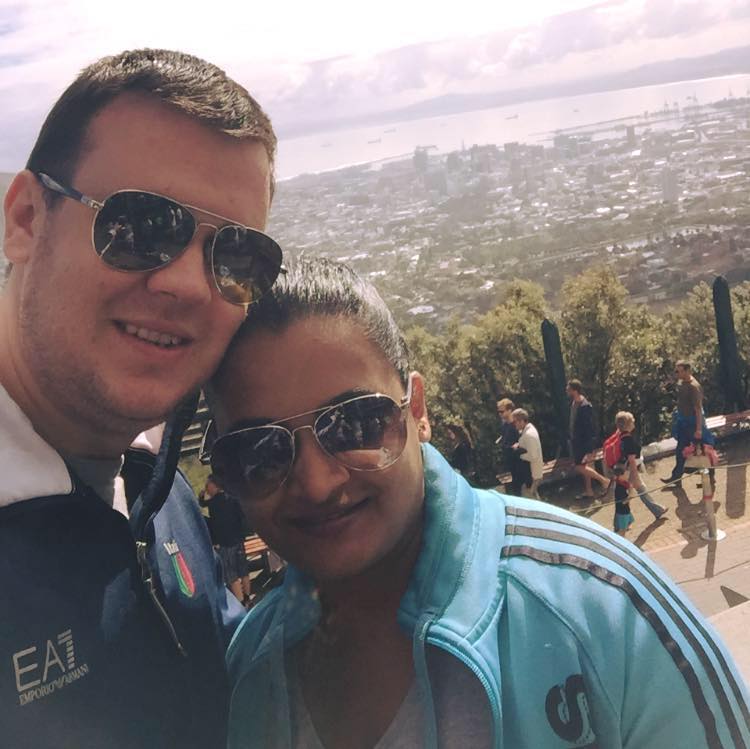 Philip: We've got some pretty awesome plans for this summer. A surprise trip to Disneyland for our daughters in France, then Turkey or Morocco on holiday. We realize that life often has other plans, but as it stands, we are looking very seriously into moving away for good around October. I also have to be in a location where it would be relatively easy for me to get around Europe for work so we are hoping for Spain or Portugal.
I do believe there are some forces at work that are beyond what we can see. We have been talking about the law of attraction a lot lately and have started to actively incorporate it into our lives. I started doing positive affirmations, thinking about my ideal life as if it has already happened and spending a lot more time meditating and trying to connect.
Over the last six weeks things have started to happen that look like they are random, but when you think about it, they are clearly meant to be. In addition to my companies doing great, which is thankfully not something new, a lot of old clients that I haven't spoken to for two or three years have been coming to me with one-off projects which would be second nature to me that will give me a much appreciated lump sum income which will also go towards funding our new life. So far, that has happened on two or three different occasions.
So it seems like we might just be able to follow through on this new dream we have of moving to our next chapter. Seems like doors are magically opening yet again. We're infinitely grateful and excited.
(Interview & write-up by Bianca.)
How did this story make you feel? Feel free to share your thoughts and feedback in the comments below…
Comments
comments